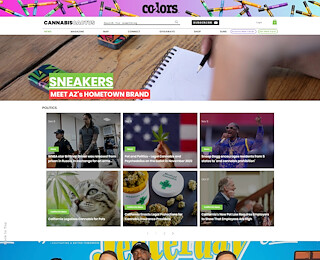 A dispensary in ordinary usage is a room where medicines are manufactured and sold for public consumption. This includes an industrial plant that dispenses medications and medical supplies to consumers of legal age.
There is another type of dispensary that dispenses marijuana and cannabis for medicinal and recreational purposes in some states of the United States of America. For instance, according to a recent Insider article, marijuana is legal for adults in 15 states and Washington D.C. It also states that medical marijuana is legal in 36 states.
According to the popular reviews of Phoenix's best dispensaries, there are many dispensaries in Phoenix, we've drawn up a list of the topmost five.  
NATURE'S MEDICINES
This dispensary location is convenient, making it stand out among other leading cannabis dispensaries in Phoenix, AZ. They sell their gram of flower within the range of $6.00 to $12.00, making it affordable for their customers to buy the cannabis or marijuana of their choice.
Their products are well arrayed for their customers to make a choice insisting on order which ensures they are in business indeed. This dispensary is a stickler for quality, and they make sure to test their products for their patients to make informed decisions scoring a high point on transparency.
Their staffs are well-trained to render help in such a manner that keeps customers coming back as they get royalty treatments. 
ARIZONA ORGANIX
Arizona Organix can claim to be the foremost among the best medical marijuana dispensaries in Phoenix, AZ, with the bragging rights of being the first State Licensed Medical Marijuana Dispensary in Arizona. This fact alone sets them apart as the second to none dispensary in Arizona, which also comes with the responsibility of being a pacesetter.
They have various flowers for selection, among which is the popular unlimited $25 grams of shatter.
The first will always be the best as this is evident in their cheerful and helpful staff, clean and organized dispensary. Compared to other best marijuana dispensaries in Arizona, this leading dispensary is top-of-the-line because they not only know the industry inside out, they started it.
THE GIVING TREE WELLNESS CENTER OF MESA
They cultivate one of the best and unique flowers for weed lover's consumption. They have a BOGO for new patients to encourage them to be regular customers. The waiting room of this dispensary is the definition of convenience. Their staffs are ever ready to help you. The dispensary is easy to locate. They usually have customers who maximize their BOGOs which gives them an edge over their competitors.
TRU|MED
TRU|MED is one of the cleanest and most sophisticated, with the added advantage of a convenient location. Customers who want to have a dispensary tour should add TRU|MED to their list because of the special treatment they will get from TRU|MED's incredible staff and the special offers they will be able to maximize.
With a unique house strain to choose from, like the TRU|MED Blue Dream, this dispensary will not let their customers down based on their expectations which is one reason they rank as one of the best dispensaries in Phoenix.
URBAN GREENHOUSE DISPENSARY
Urban Greenhouse has an ideal facility where they cultivate their perfect flowers. They indoctrinate their staff to understand everything about their dispensary and how their products are manufactured so that customers will have no issues regarding the choice of products they want to purchase. There is always a discount on products like PuraEarth Arizona Palm Sticks. This dispensary is clean and has a convenient location too.
Community: https://cannabiscactus.com/community/
Magazine: https://cannabiscactus.store/magazine: https://cannabiscactus.com/magazine/
Store: https://cannabiscactus.store/
Cannabis Cactus Magazine
623-295-1011
2921 West Osborn Road
Phoenix
AZ
85017
US